How is it going my dudes? ED's latest series brings you a place where you can energize yourself before starting the dread we call every day.
What the hell is this, you might be thinking right now as your eyes glance past this weird question with no answer.
I don't know. But what I do know is that today is the day we kill it. Absolutely kill it. The sun is shining and everything is already looking up.
Nothing can go wrong because you are prepared.
Prepared to make today, Tuesday your b*tch. Know what else I know? A little morning boost goes a long way.
START THAT PAPER YOU HAVE BEEN PUTTING OFF THE WHOLE SEMESTER. GET HELP ON LAST WEEK'S ASSIGNMENT. SHOOT AN EMAIL TO THAT <INSERT PERSON YOU DON'T LIKE>. POUR OUT THE NECTAR OF GODS WE CALL COFFEE AND GET YOUR LIFE IN ORDER.
SO WHO'S READY TO CRUSH IT TODAY? YOU!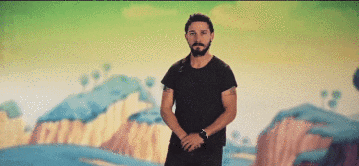 Shia approved this message.
Here is a little somethin' somethin' to get you pumped:
Let's go get it.
---
What are you conquering on this blessed day? Light up the comment section and let us all know. Feed from this energy and soak this bad boy in. #BigMoney