"…And the award for "Most Inspiring Indian Actor" goes to Sanjay Kapoor  for his exceptional performance in various Hindi films and web series.." 
Surprisingly so, a similar kind of roar was heard at the House of Common Parliament of the United Kingdom on 28th September, 2019.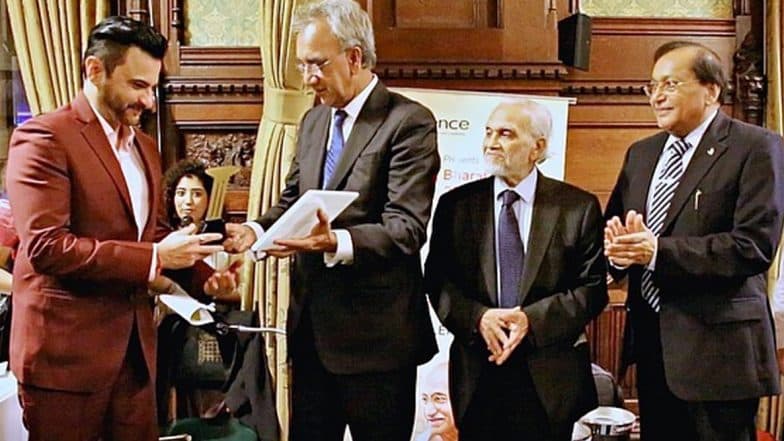 The 53-year-old actor cum producer has been a part of the Bollywood industry for more than two decades but caught the attention of the Indian audience only recently, when he was bestowed upon with this prestigious award by the UK.
Seen in 1990s blockbuster hits like "Raja"; "Auzaar"; "Mohabbat" he was last spotted in the Indian rom-com The Zoya Factor.
While, Sanjay Kapoor feels humbled to have received such an honor and mentions in his speech that-
          "Every actor feels great while getting an award and when you receive awards after 25 years of being around, it's reassuring that people still love you and like your work. It particularly recognizes my work in the last two years, starting from 'Dil Sambhal Ja Zara', to the web series and my recent Bollywood release Mission Mangal. I've always believed that sometimes, a 30-minute short film can do wonders to your career. The kind of platform the series gave me was heartwarming."  
Indian millennials seemed confused about his "25 years of being around" and his "inspiring" contribution towards the industry.
As a reaction, Twitter was flooded with hilarious tweets trolling our newbie awardee.
---
---
While the Kapoor family was busy celebrating the fame, #SanjayKapoor was trending on Twitter and witnessed netizens hilariously mocking the formerly mentioned actor.
Most of the internet users were seen criticizing the act and declaring it as a PR stunt whereas others made sure to have a good laugh at it.
https://twitter.com/kalpanajaggi/status/1178738277249097731?ref_src=twsrc%5Etfw%7Ctwcamp%5Etweetembed%7Ctwterm%5E1178738277249097731&ref_url=https%3A%2F%2Fedtimes.in%2F%3Fp%3D133090
How can we have left our dear Rahul Gandhi out of the whole fiasco when some serious trolling was taking place?
Contribution of Sanjay Kapoor to Bollywood is same as that Rahul Gandhi to Politics! ;)

— Janki Brahmbhatt シ (@DrJankii) September 30, 2019
Whereas, we saw some famous 'Modi-ji reactions' on the issue as well!  
Pic1: The value of award received by Sanjay Kapoor

Pic2: Sanjay Kapoor's actuall contribution towards Bollywood pic.twitter.com/poiAyUquh7

— Sir Yuzvendra (parody) (@SirYuzvendra) September 30, 2019
This one took it to the next level, by sarcastically highlighting our negligence towards such an important event!!
Aap log yahan twitter pe left wing right wing karte rah gaye aur udhar kisi ne chupke se Sanjay Kapoor ko acting ke liye koi award de diya#SanjayKapoor

— Jasprit Bhatia (@bhatiajs) October 2, 2019
The lesser-known actor's popularity was also doubted and had it going like-
Isko to Kapoor khandan ke sare log bhi nahi jaante honge, UK wale kaha se janenge

— proud to be followed by Piyush Goyal (@BakchodSamurai) September 30, 2019
Pointing towards a serious issue in a comic way, we saw a tinge of nepotism being targeted as well.
https://twitter.com/ShaktiGuy2/status/1178716101728800770?ref_src=twsrc%5Etfw%7Ctwcamp%5Etweetembed%7Ctwterm%5E1178716101728800770&ref_url=https%3A%2F%2Fedtimes.in%2Fwp-admin%2Fpost.php%3Fpost%3D133090%26action%3Dedit
Whatever be the reason for his win, such news has all of us surprised (and confused?!).
But as long as we can as we presume that Sanjay is enjoying all the attention, we wish him luck and hope he proves himself to be worthy of this honor in the coming future.
---
Sources: News Nation, Twitter + more
Image Credits: Google Images 
Find the blogger @ZehraYameena
---
Other recommendations: 
"Once I Had Sex In Central Park And Was Chased By A Police Helicopter": Jim Sarbh Is Unreserved In ED's Friendly Fridays