Disclaimer: Originally published in June 2019. It is being republished since it still remains an interesting topic till today. 
---
Today is a very special day for the worldwide famous band BTS and their fans ARMYs. 
BTS or Bangtan Sonyeondan/ Beyond The Scene is celebrating their 6th anniversary today with their millions of adoring fans called ARMYs. 
It has been 6 long years and now finally, BTS including RM (Kim Namjoon), Jin (Kim Seokjin), Suga (Min Yoongi), J-Hope (Jung Hoseok), Park Jimin, V (Kim Taehyung) and Jung Jungkook are perhaps one of the most successful musical acts in the world right now. 
After having completed their US and UK leg of the Love Yourself: Speak Yourself stadium tour, where they performed at a sold-out Wembley Stadium in London, they are back home in South Korea now. 
Currently, they are preparing for the "BTS 5th MUSTER 'MAGIC SHOP'" on June 15-16 in Busan and June 22-23 in Seoul, which they will be celebrating with ARMYs for their anniversary. 
With the ever-increasing popularity of the group, more and more people are joining the fandom, making it bigger every day. 
Rocking a solid 20 million followers on Twitter alone, it is a pretty big fanbase, and along with that, there are an unlimited amount of inside jokes that ARMYs share among each other. 
If you are a new ARMY, then here are some inside jokes you should know about, along with a few that you should probably avoid. 
#1. I Purple You
"I purple you", less than being a joke is more something that is deeply emotional to BTS and ARMYs. 
Coined by V (Taehyung) at a concert on November 13, 2016, he said that, "Do you know what purple means? Purple is the last color of the rainbow so it means I will trust and love you for a long time." 
Since then, the phrase has become another way for BTS and ARMY to 'I love you' to each other. The colour purple has also somehow become an unofficial colour of the fandom and symbolises love, trust and support for one another and BTS. 
Not just them, but even other people including UNICEF Executive Director Henrietta H Fore have used this term. 
https://twitter.com/UNICEF/status/1006551707885551622
#2. Mr. Hawaiian Grubby
This is a joke that started after an episode of BTS's second season of their reality show 'Bon Voyage'. 
Jungkook, the youngest member of the group, had gotten tanned more below his nose giving him a grubby appearance. 
Although he wore a wide-brimmed straw hat, it only served to create a shadow highlighting the tan even more.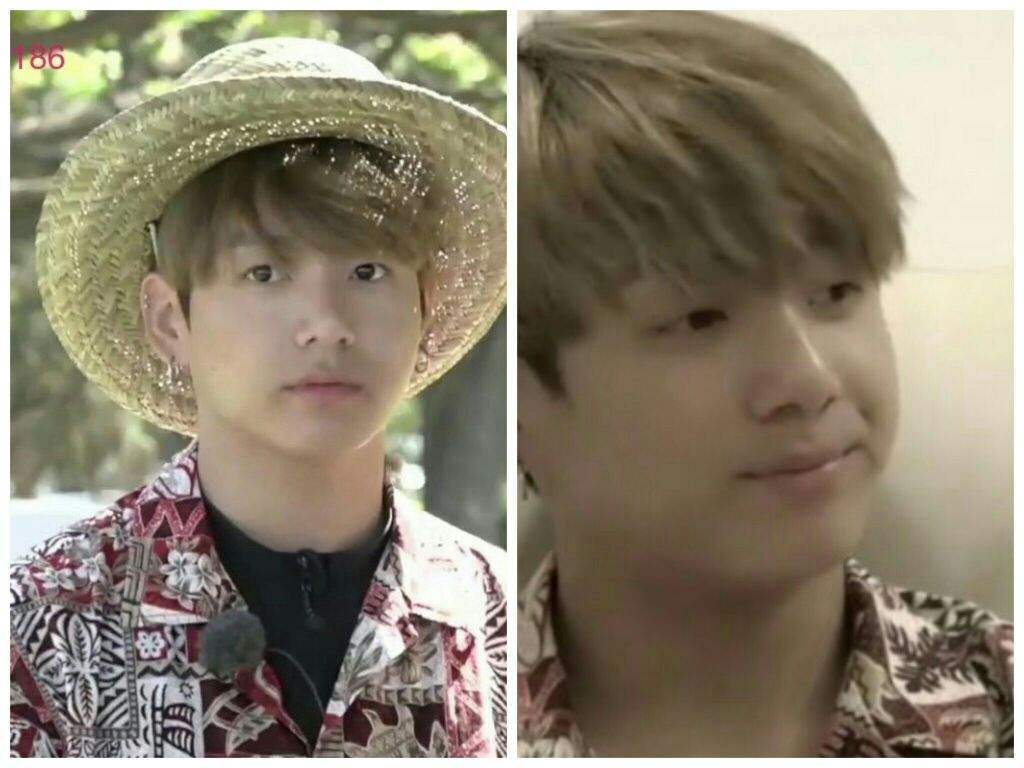 #3. ARMY Name
This is a more current joke when a clip was released during the ARMYPEDIA hunt talking about the various names for BTS' fanbase. 
In the clip, RM revealed how one of the names nominated before ARMY was 'bangwools'. He said that "If that was chosen as our fandom name, then we would say All the bangwools out there -". 
The intention was more to say something like ARMY BELL since in Korean the word 방울means a bell. But it could have also sounded like saying 'bangwool. 
https://twitter.com/bts__europe/status/1109422345448505344
#4. I Know Face But Not Name
Jungkook said this line while giving an interview to Access Hollywood where they were once again asked the typical question of who their celebrity crush was. 
#5. RM Losing His Passport
RM has been known to lose his passport often, with the first time being in the first season of Bon Voyage where he had to, unfortunately, return home early, as he could not travel without one. 
He once more lost it in another instance, and now ARMYs often tease about this forgetful habit of RM. 
#6. What Yoongi Wants Yoongi Gets
This is less a joke and more of a fact since whatever Yoongi (Suga) has said has more often than not come true. 
He said that he wanted BTS to be at the top of the Billboard Hot 100 and it came true, he said that he wanted BTS to go to GRAMMYs and even that came true. 
Along with this, there are a number of things that he has stated that have come true, showing how determined ARMYs were to give them what they wish for. 
It's now become an inside joke where anything Yoongi says will be coming true sooner or later.
#7.  Important Business
'Important business' was a phrase created by J-Hope in the first season of Bon Voyage that they used to get away from fans who approached them. 
Without making the fans feel bad, this term was used in order to allow BTS to film the episodes in peace. 
There are plenty more besides these, but this is a good place to start. 
---
---
Where the above are jokes that are used openly, there are also some that have just gotten too old or were not exactly nice to the members. 
You should probably avoid the following jokes since most of them were stereotyping the members and creating an embarrassing situation for the fans. 
We need to remember that along with the boys, we fans have also grown and learned that these jokes have become outdated and no longer apply to the band. 
#1. No Jams
This came about from the 2014 BANGTAN BOMB, a behind-the-scenes kind of video, on their YouTube channel. 
In this video, BTS were travelling to Los Angeles to film one of their earlier shows called 'American Hustle'. 
In the clip, Namjoon was calling out Jimin and said 'Jimin, you got no jams'. 
However, ARMYs have stopped using this joke as it has gotten outdated and in fact, is used for fans who are embarrassing themselves. 
#2. Tae Is Alien
Taehyung in the early days of BTS was called alien, 4D alien, strange and more such words by some fans. 
However, that also has been put a stop to as they have realised how rude and mean it sounds and that Taehyung is actually a very intelligent and creative artist. 
#3. Jin As Mother
Another joke which has even been underhandedly addressed by BTS themselves was Jin being called the mother of the group. 
Although it is common for K-Pop idol groups to categorise the members in such kinds of roles, so that fans can easily get attached to them, BTS has grown out of that mindset. 
Jin is not the eomma (mother) of the group who cooks and cleans after the kids (rest of the BTS members). Even though he might like the colour pink or be good at cooking, does not make him a female. 
#4. RM and Jin as Bad Dancers
Recently, BTS appeared at the iHeartRadio interview in May, the interviewer asked the fans present who among the members would mess up or forget the choreography. 
Although there were fans who shouted none, some did answer it being as Jin and RM. 
This comes from another old and outdated joke of how RM and Jin are bad dancers, which has clearly been proven wrong. 
---
Image Credits: Google Images
Find the blogger @chirali_08
---
Other Recommendations:
What Does BTS Becoming A Member Of The Prestigious Recording Academy Really Mean?