Not even an iota less from a paradise, Mauritius is a truly exotic place to visit. The very name of this island, conjures up images of cobalt blue waters, white sandy beaches and luxurious resorts. The whole island has been formed as a result of a volcanic eruption and is populated with merely 1.2 million people. The tropical environment and the roads surrounded with abundant sugarcane fields are other aspects of the island's beauty. The island not only offers the infinite pleasure of sunbathing and snorkeling, but various other adventurous activities that are available only in Mauritius.
Top 8 things to do in Mauritius (straight from a traveler's experiences):
1. Submarine dive to 35 meters:
Experience the most spectacular way of diving on board a real submarine. Comfortably seated in an air conditioned cabin under atmospheric pressure, you will discover the splendor of marine and coral life at 35 meters depth. During the 45 minutes trip you will also see the shipwreck of the "Star Hope", corals and the anchor of a 17th century galleon.
2. Domaine de L'ETOILE
The "Domaine de l'Étoile" is an exceptional natural reserve of Mauritius, rich in a fauna and a protected wild flora. Hop on a quad bike which opens you quite ways for a stroll in wild lands.
3. Chamarel Village
Chamarel, a small village located in the south western part of Mauritius, plays host to two wonderful attractions: Seven Colored Earth and the Chamarel Waterfalls. Promoted as a tourist attraction in the sixties, it is now one of the most visited places in Mauritius.
As the name suggests, the 'Seven Colored Earth' is a phenomenal natural geological formation of multiple dunes comprised of 7 specific colors: Red, Brown, Violet, Green, Blue, Purple and Yellow. Cooling of molten lava at various temperatures led to its formation. Subtle rays of sunshine found during sunrise and sunset reflects its emotions, making it the perfect time to experience this spectacle.
4.Gris Gris
Gris Gris is an island on the southernmost tip of the island with no reefs to protect the high waves from smashing against the rocks, a completely amazing experience which makes you realize the might of the nature.
5. Sea Plane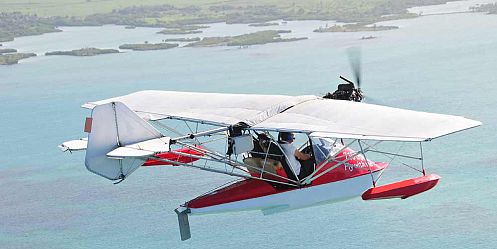 With an island in the middle of the Indian Ocean, there could be nothing better than a ride on a sea plane at 200 meters above the sea level, enjoying breathtaking panoramic views of the coral reefs, vast expanse of the ocean and the land. Also, you can experience the thrill of taking off and landing on water. It's a must do for anyone visiting Mauritius.
6. Catamaran Cruises
Set aboard on a catamaran cruise to explore the coastline of Mauritius. The cruises start from various points and have different routes. It's a fun filled day, sitting on the deck of the cruise with a supply of unlimited drinks and a sumptuous barbecue lunch. The cruises stop at various other neighboring islands and also stop in coral reefs to provide an opportunity for snorkeling.
7. Ile Aux Cerfs
Ile Aux Cerfs is the most beautiful island on the East coast of Mauritius. It offers exhilarating water sports such as para-sailing, tube ride, banana ride, fly fish, kayaking, wind surfing and is dotted with restaurants offering various world cuisines. To reach the island you can choose to go by a speed boat, which is an experience in itself.
8. Le Caudan Waterfront
In the heart of the island's capital city, Port Louis, Le Caudan Waterfront is a shopper's paradise, facing the harbor. All those who can't resist shopping around in a foreign country and wanting to carry back souvenirs can visit this place.
So, what are you waiting for, pack your baggage and leave for this paradise, vacations are still going on!