Back in Time is ED's newspaper type column that reports an incident from the past as though it has happened just yesterday. It allows the reader to re-live it several years later, on the date it had occurred.
For this incident, we go back in time to 1975.
Madras, 17 April, Thursday- Our country lost another great soul when Dr. Radhakrishnan, India's first Vice-President and second President took his last breath yesterday in Madras.
Born on 5th Spetember 1888 in Thiruttani into a poor Telugu Brahmin family, highly intelligent since childhood Dr. Radhakrishnan went through most of his schooling through scholarships. At a ripe age of 16, he married Sivakamu from whom he begot 5 daughters and 1 son.
After high school from Lutheran Mission School in Tirupati, at the age of 17, he enrolled himself in Madras Christian College to pursue Bachelor of Arts and Master of Arts with philosophy as his major. His M.A thesis was published when he was just 20.
Young Sarvepalli worked as an Assistant Lecturer in Madras Presidency College in 1909. Teaching was his passion and his evocative teaching made him popular among his students. He was a professor at the Calcutta University, Vice chancellor of Andhra University and Banaras Hindu University.
Sitting third to left is Dr. S Radhakrishnan during his farewell.
He was regularly invited to the Oxford College to give lectures and he was knighted by George V but he ceased to use the title after Indian Independence. He was also named as Spalding Professor of Eastern Religions and Ethics at the University of Oxford.
For the Indians he symbolized the ancient wisdom with a torrent of knowledge. His words were though provoking and scintillating. Though he had no dearth of words, he knew the value and power of silence, making him both, a good listener as well a good orator.
In 1942 he became a nationalist voice when he defended Banaras Hindu University's students for being punished for participating in the freedom struggle. In 1949 when he was appointed as the ambassador for Soviet Union even Stalin couldn't help but be mesmerised by the simplicity of this great man and the humility Dr. Radhkrishnan displayed at the helplessness and sickness of the notorious communist.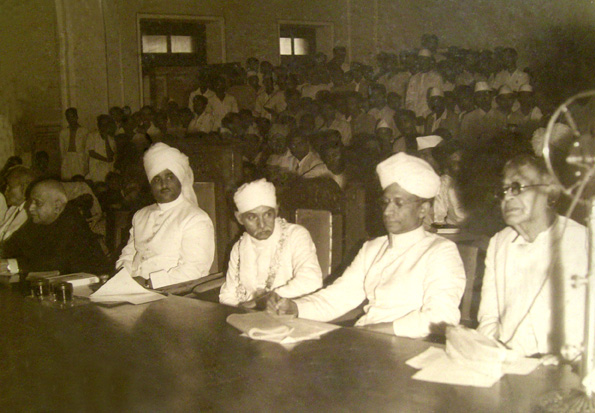 Madan Mohan Malaviya passing Vice Chancellorship of Banaras Hindu University to Dr. Radhakrishnan in 1939
In 1952, India elected Dr. Sarvepalli as its first Vice-President. In 1954, he was conferred with the India's highest civilian award the Bharat Ratna. In 1956, his beloved wife and partner for more than 51 years passed away. He remained the vice-president for two consecutive terms.
In 1962, he became the second President of our nation and in the same year his birthday, 5th September came to be observed as Teacher's day. He guided our Prime Ministers during turbulent times. We have suffered a great loss as a light of knowledge has diminished.
India's Second President with US President John F. Kennedy in the Oval Office in 1963
May God rest his soul in peace.