Party supporters get beaten, offices destroyed. A day after the elections, this is what I find on the papers. Later, I hear that someone in the neighbourhood is hospitalised after getting injured. Well I do distinctly remember a group of men clad in whites and carrying lathis going across the street.
In West Bengal, according to the People's Democracy blog, the TMC were supposed to have been fierce in the areas they were defeated. Offices were vandalized, houses ransacked and women tortured. Also, Roopa Ganguly, an actor turned politician (BJP) was also attacked.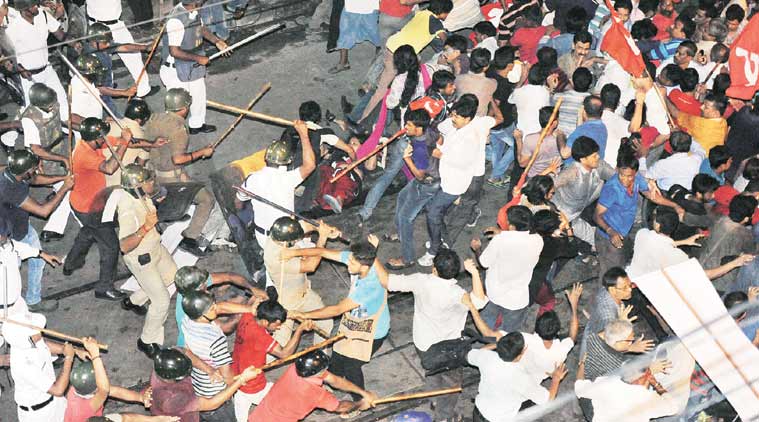 Mathrubumi, a leading newspaper in Kerala had three reports of attacks on the same day. A CPM worker run over by a vehicle ; A BJP worker succumbed to his injuries and People on both sides died in Bomb attacks.
What do these News intend to tell us? Terrorism? Are we not satisfied with all that's happening in other parts of the world that we have resorted to attacks within the country?
Elections, are a means open to the public so that they can select their own leaders. And if it all any party has won, it has won it fair and square. They have the people's vote. They are the chosen ones. Also, the opposition has to accept defeat in the true spirit of democracy. But as of now, it is more of a personal grudge to the elected representative as a result of which lives of those related to them are at stake.
Now, if a post poll attack occurs, the whole party is bound to announce a strike, paralysing the daily life of a common man. Schools on a holiday, patients unable to reach hospitals and shops shut down. To nip this in its bud would have been difficult because no one would like their money go waste after they've engineered bombs.. And of course not after their own people died while making bombs..
Bombs? Like seriously? You gather funds from people to create bombs? What difference does it make between Naxalists and Political parties? Except for the fact that one of them is against the government and the other acting from the government's side?
No wonder there were 17 lakh NOTA votes in the five states that had their Lok Sabha Polls. No faith in democracy left, don't think representatives are worthy enough. I was supposed to cast my first vote this time but after this, I really don't feel bad about it.
Political parties are the cells of the government body. They make the whole government. Its known that if a cancerous body invades a cell, it is bound to replicate itself. So, and as far as I have seen, there ain't any benignity in these infected cells. Once infected, they are treacherous and malignant cells.
What should they do? If that is what the question is, I'd say please stop being hypocrites. Promising us with a peaceful world and fighting like a kid who lost a Snake and ladder game? Nope. That simply isn't done.
---
You might also like to read: