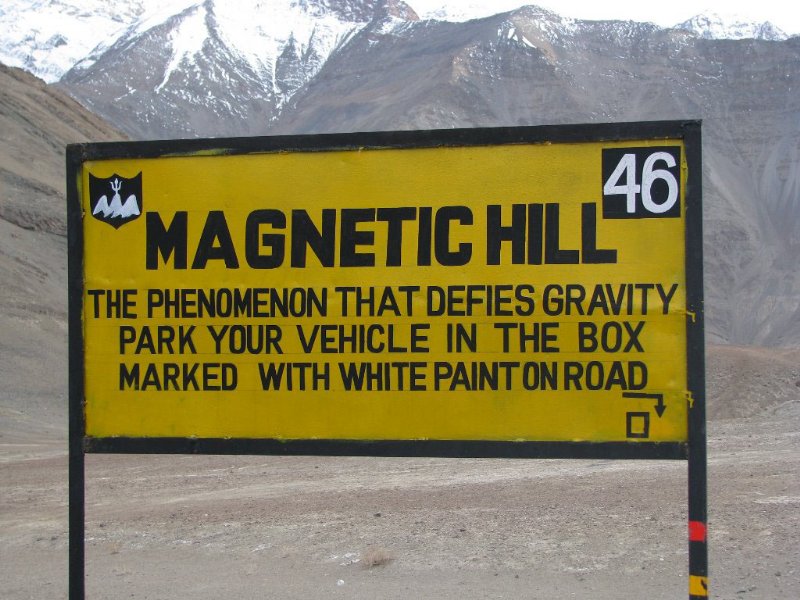 By Anushka
Above is a signboard of what has famously come to be known as the 'Magnetic Hill' in Ladakh. It invites you to be a part of and experience this mystifying phenomenon first hand. Follow the instructions on the signage and your car actually starts moving on its own at speeds of 10-20 km per hour.
And for those of you who are thinking 'The movement must have been due to the downhill descent and it was just following the rules of gravity.' Turn your car in the opposite direction and repeat the steps. It will start moving uphill!
Who could have imagined that a vehicle could move up a steep mountain, with its ignition off? Sounds quite unbelievable!
Well, this magnetic magic can be experienced while you are travelling to Leh-Ladakh.
The magnetic mystery explained
Many claim that natural or even supernatural forces are at work here causing the magnetic attractions. However, there is some scientific reasoning to this phenomenon as well.
The Magnetic Hill is a place where the layout of the surrounding land produces the optical illusion that a very slight downhill slope appears to be an uphill slope. Thus, a vehicle left out of gear will appear to be rolling uphill. The slope of hill is an optical illusion.
A completely or majorly obstructed horizon is the most important factor contributing to the illusion. As, in the absence of a horizon it becomes difficult to judge the slope of a surface. If the horizon cannot be seen or is not level, then we may be fooled by objects that we expect to be vertical but that really are not.
Another theory is that false perspective might also play a role. Objects far away may seem smaller or larger than they really are. This is a remarkably common illusion that is found in numerous locations around the world.  Usually it is a stretch of road in a hilly area where the level horizon is obscured.
Impact on Helicopters and Aircrafts
Not only are the vehicles traveling on the road attracted by the magnetic powers of this hill, even the helicopters and aircrafts feel the same magnetic impact. Locals and the Indo-Tibetan Border Police (ITBP) personnel claim that the helicopters and aircrafts that pass through the area have to fly at a greater speed to avoid the magnetic impact of the Magnetic hill. And if the aircraft comes within the radius of Magnetic Hill, it starts to jerk. In fact, the Indian Air Force pilots always steer clear of the Magnetic Hill.
There are a number of gravity hills across the globe. India has two such roads: one in Ladakh and the other in Gujarat.
P.S Don't be mystified. This is serious!