The azzuri started their 2014 world cup campaign on a winning note as they beat the three lions on the back of a classy display by their veteran midfielder Andrea Pirlo.  
Starting Lineups
 England-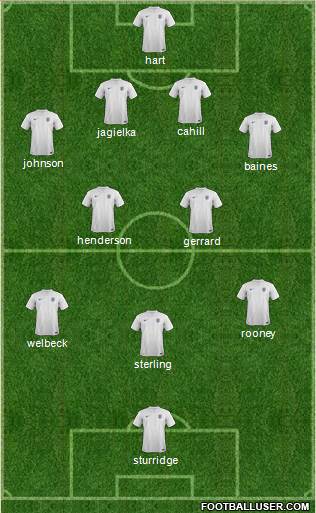 Italy-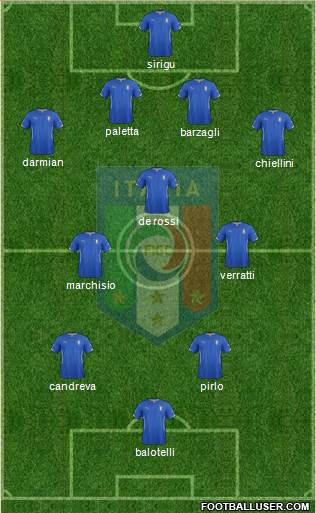 Italy started with a rather unusual formation of 4-3-3 with coach Prandelli keeping this a secret till the start of the match.Iconic Italian captain and goalkeeper Buffon missed the match due to injury and was replaced by Paris Saint Germain custodian  Salvatore Sirigu who ended up with a few great saves by the end of the match. Chiellini filled in for de sciglio at the left back position while the young paletta and barzagli played as full backs.
On the other hand England played with four strikers upfront with Raheem Sterling getting the nod ahead of adam lallana while gerrard and henderson settled for a more holding role in the playing XI.
Both the teams started on a bright note as they attacked and defended well at the same time.England looked to threaten from the beginning as the speed of sterling and sturridge kept the Italian defenders on their toes. Frequent long balls from pirlo kept the azzurri in the fray of scoring goals as Italy dominated  possession as soon as all their players settled in.England always looked to score as they looked good on the break.The deadlock was finally broken in the 35TH minute by Juventus midfielder claudio marchisio as he scored from just outside the box.The swarm of blue rejoiced as pirlo's dummy had totally left daniel sturridge puzzled and out of ideas with marchisio scoring a well rehearsed goal.England players were quick to  react as wayne rooney set daniel sturridge up for the equalizer two minutes later with a beautiful cross from the left.The first half ended at 1-1 with the players going into a much needed break on a hot and humid evening.
The second half started on a brighter note for Italy as controversial striker mario balotelli started  his world campaign by giving Italy the lead in the 50TH minute through a candreva assist.England trio of rooney,sterling and sturridge attacked frequently throughout the match but Italy defended well to hold to the lead.The introduction of wilshere and lallana late in the match couldn't yield a result for england and Italy went on to win 2-1.
By the end of the match everyone knew that Prandelli's men had beaten a brilliant Engalnd side that had the right mix of youth and experience. Hodgson's side is still very much in the competation and a pose a serious challenge to the world cup and next face Uruguay who lost to Costa Rica in the previous group D match.
MAN OF THE MATCH
Antonio Candreva(man of the match)
The Lazio midfielder formed a formidable partnership with left-back matt darmian to trouble the english defence throughout the match and even set up the winner for balotelli
FLOP OF THE MATCH
Leighton Baines(flop of the match)
The left back struggled throughout the match to find ground as candreva and darmian outplayed him on most encounters