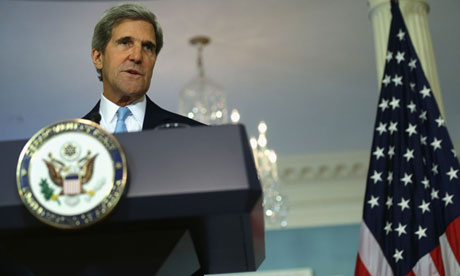 The British Parliament's decision to go against David Cameron's plans to join the US in its proposed "humanitarian" bombing of Syria reflects not just British opinion, but world opinion. This is not to say that Syrian uprising that began in March 2011, which turned into a bloody civil war, is none of our business.  It is, in fact, a matter of great concern for the world especially after the recent alleged chemical weapons attack in a Damascus suburb that has escalated diplomatic concerns. Al Jazeera's Patty Culhane, reporting from Washington, said the Obama administration clearly showed that it is not backing down and Kerry did not leave any doubt about a possible military action. The question is, will this attack do any good or bring more destruction than there's already been?
"Americans strongly oppose U.S. intervention and believe Washington should stay out of the conflict even if reports that Syria's government used deadly chemicals to attack civilians are confirmed," Lesley Wroughton of Reuters reported August 24. "About 60 percent of Americans surveyed said the United States should not intervene in Syria's civil war, while just 9 percent thought President Barack Obama should act." And if there were proof that Bashar al-Assad's forces used chemical weapons? (According to recent reports they cannot prove al-Assad ordered the attack) Even then, just one, in four Americans, favors intervention.  This does not imply that the Americans and the world as such do not care about what's happening in Syria. This refusal of intervention comes from a deep scepticism regarding America's foreign policies. It is no wonder that the intervention is supported by so few, the people having witnessed the earlier performance in Vietnam, the Bay of Pigs, Beirut, Iraq, Afghanistan, and Libya, among other places, are well aware of its shortcomings.
Now one is forced to think why US is so hell bent on doing something that only 9 percent of Americans want him to do! How is the President's credibility, as the US media keeps reiterating, hinging on something that the country opposes? It clearly answers itself, the credibility among people who matter – Washington elite, people who are doing everything they can to diminish the common man's ability to exert pressure on foreign policies.
There's no denying that if US attacks Syria there will be more damage and violence than there already is. I am sure Mr President doesn't want another Iraq or Afghanistan.