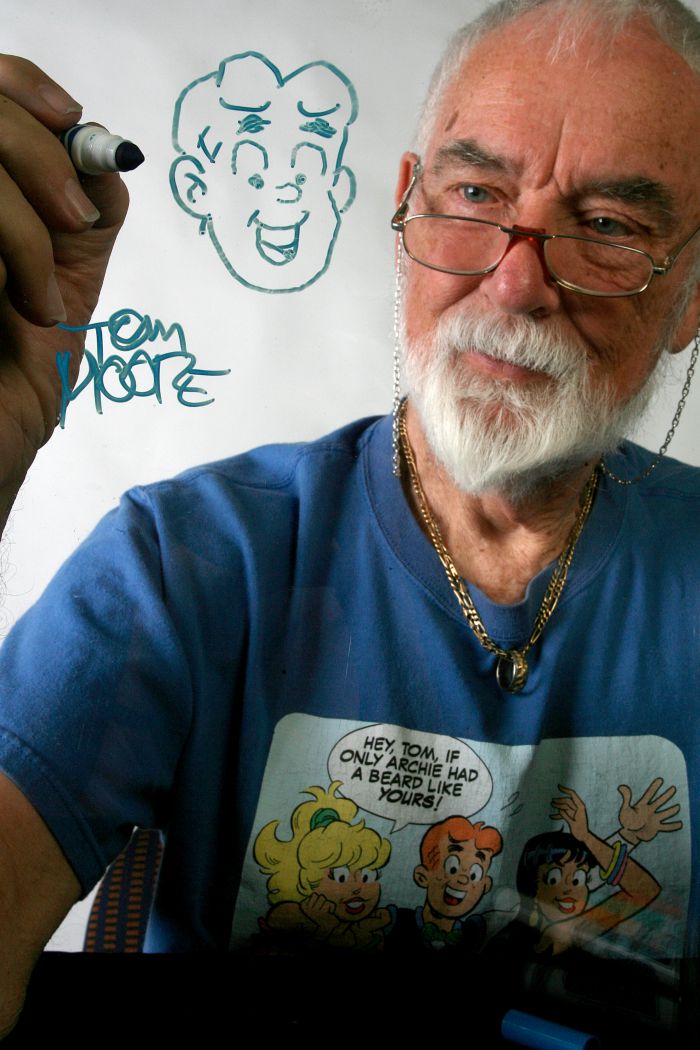 I have always been a voracious reader and at the tender age of 13 I had already read most of the books of my course and around the house. So what's a girl to do when she has nothing to read except pester her parents.
That is when my mom brought to me her collection of Archie comics and since that day I was hooked on them hook, line and sinker. I just connected to that fictional world of Riverdale and its inhabitants so quickly it was astonishing. Even though my reality was nothing like that yet reading about their exploits, Jugghead's never-ending hunger and the everlasting fight between Veronica and Betty for Archie kept me up late into the night reading about them.
And although I might have become distant with the comics because of school and then later on college and then life but still when I heard of Archie comics cartoonist Tom Moore's death it felt as if I had lost a part of my childhood.
I had never met the man, and to be honest it had been quite some time since I had even touched an Archie's comics, yet his death hit me by surprise and well a little bit of grief too.
Tom Moore born in 1928 was with the Archie family from 1953-88 a long time to be honest. And it was also the time when Archie comics were at their peak of success. He died on 20th July 2015, at the age of 86 in his hometown of El Paso, Texas due to lung cancer.
According to sources he first tried his hand at cartooning when he was serving in the U.S. Navy during the Korean War. And he had since then never looked back. Archie comics was launched in 1941 and Tom Moore joined the team in 1953, so essentially he was there for was almost every big success, that the team had the pleasure of having.
The Archie comics were actually Pep Comics, but soon enough in 1941 only, Archie became the headliner and the company changed its name from MLJ Magazines to Archie Comics Publication.
Even though the comics were a bit on the pricey side they still took the world by the storm and till yet have  kept it in its grip. The comics might not be the most popular as they were in the beginning but they still have a healthy and loyal fan following till date. We liked everything about them, their characters, their funny quotes and gags and the all around atmosphere of lightness of the teenage years where we make a mountain out of the smallest mole hills.
They were one of the first comics that were targeted especially for the teenage audience. Until then it was either adult or children's section. But now we had something specifically for the teenagers out there. Something that will make them interested in reading and yet allow them to connect to it without seeming uncool. We are still interested in what's happening in Riverdale and all its characters.
Tom Moore was an integral part of the comics and had continued writing for the comics even after he was retired such was his dedication to his job and his love for the characters.
I know that I am writing about a man I never ever met, and now will never meet, but I feel that he knew how many people, sorry young teens lives he touched by  creating such magnificent and amazing and funny characters.
Those comics, his words and his illustrations and his jokes were a big part of my teenage years. That is something I will always cherish. And he might not be in this world anymore.
But he will live, immortal, in infinity through his words and his characters.
R.I.P. Tom Moore.