With the unveiling of Puma's new campaign last week, the entire social media platform has been trending with #PropahLady.
The campaign focuses on redefining womanhood and breaking the stereotype revolving around a "proper" woman!
The idea of a 'propah lady' resonates with woman being bold, beautiful, strong and unapologetic. And, why not? It's 2019 and women are still not accepted as who they want to be.
Through the 'Propah lady' campaign, Puma wants all women to believe in their potential and take a stand for themselves. The campaign went viral through a very catchy but innovative video.
The video features 4 iconic women excelling in their forte and delivering the message of empowerment to all young ladies out there!
Apart from the catchy content, gaudy graphics, saucy audio; the most special thing about the video was its protagonists in-charge.
You Heard It Right!
Puma didn't just pick and choose any woman to feature in its most iconic campaign. The company did proper research before finalizing the leads for its video, ones who represented 'an empowered woman' and finally, settled with the featured names.
As the campaign is a big slap on patriarchy and prevalent sexism in society, Puma wanted to make a real impact by choosing "real-life badass women" to act as the leading ladies for the cause. Didn't get it yet?
The uniqueness of the campaign lies in the originality of it. Women featuring in the video are not just actors but real-life 'heroines' who just refused to let others take the driver's seat of their life.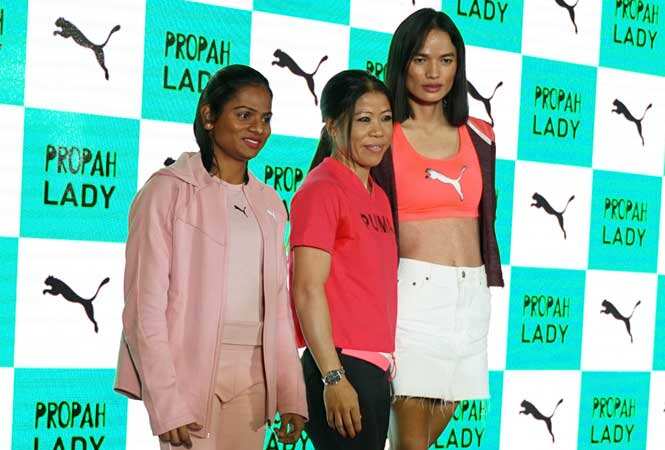 These women fought against odds and irrespective of all the flak received, they still stood erect for their identity, creating a real-life example for all the young girls that are fighting for a cause.
Now you might ask who were these ' Propah Ladies' chosen to be the face of the campaign. Well, they are:
1. Mary Kom
"She who packs a punch and sometimes their lunch."
A badass woman who has not only changed the world's perspective towards Indian women, but also rewritten her name in boxing history.
Mary Kom perfectly exemplifies that a woman is complete in her own way and doesn't need to follow the societal norms to be tag lined as 'prim & proper.'
She proved that motherhood and family responsibilities are not hurdles in a woman's life but rather, important pillars of support and strength.
---
---
2. Dutee Chand
"She who never skips practice but sometimes skips her hardcore image."
The above caption was meticulously crafted to resonate with Dutee's personality. A renowned name in Indian athletics, Dutee is a perfect example of how hard work and passion are the only ingredients necessary to achieve your dreams.
Despite hailing from a small town in Jaipur, she made remarkable contributions in breaking the fabric of societal norms to pursue her dream.
3. Sara Ali Khan
"She stands for what she believes in without wavering."
Contrary to the belief, surviving the industry is not that easy for all the star kids out there!
It comes with a lot of uninvited expectations and controversy. However, this woman has never failed to amaze us! Sara Ali Khan is a symbol of a style diva who's not only smart and witty but also bold, authentic and outspoken.
Sara believes in the upliftment of women from the core of her heart and has always retained her originality irrespective of the followed criticism.
The bold, independent and unseen side of this young lady makes her fit to be a 'Propah Lady'.
4. Anjali Lama
"She who never settles for anything less than she deserves!"
Anjali Lama happens to be India's first transgender model who has made it big internationally. A woman with a purpose and an undying will to make a change, Anjali has been working tirelessly to break gender barriers in India.
She believes in equality and refuses to accept all the flak the society throws at her. Anjali is a woman with a vision who is pretty confident and proud of her skin.
Validating the entire concept of a "Propah Lady"; Abhishek Ganguly, the Managing Director for Puma India says,
"Be it our athletes, consumers or employees, we believe every woman is a Propah Lady. We appreciate that our ambassadors are taking the lead to work with us in changing the dialogue from 'empowering' to 'celebrating the empowered. We want to celebrate women who make her own rules, who break stereotypes. With this campaign, we celebrate empowered women."
An international brand featuring such dynamic Indian beauties for its worldwide viral campaign has been more than an honor to us. With the campaign going out loud, we hope to see if it brings some real change in the Indian mindset or not!
---
Image Credits: Google Images
Sources: Live Mint, ANI News , Puma
Find the Blogger: @ZehraYameena
---
Other Recommendation:

How (Not) To Be an Indian Woman: Battling The Paradoxes Of Patriarchy Since Forever
---