In India, making memes on political issues or politicians is always a dangerous thing to do. From getting your account deleted, hate and threatening comments from their followers, and even getting a visit from Facebook (allegedly) all are things that can happen if you do so.
Over the past few years, people have often gotten in trouble due to a harmless meme that they made whether on some political event or some politician and it is interesting how a mere joke on this area is now something only a few can make. 
Even something as innocent as a meme is considered to be risky and it is with trepidation that you even dare to post it on your social media hoping that nobody notices it. 
Social media platforms for that matter have also started to be more careful in their surveillance when it comes to such posts and taking immediate action. 
It is a different case though when people of power or influence do something like this, as was seen in the case of BJP activist Priyanka Sharma. 
What Is The Mamata Banerjee Meme?
The BJP woman leader had created a morphed image of West Bengal's Chief Minister Mamata Banerjee where she had taken the CM's head and placed it over Priyanka Chopra's image from the recently held MET Gala in New York. 
However, she was then arrested in the Howrah area of West Bengal for sharing this image on her social media. As per the Howrah City police's Cyber Cell, "a complaint was lodged at Dasnagar Police station against Sharma, a BJP Yuva Morcha leader, accused of uploading and sharing Banerjee's morphed picture in her Facebook timeline and thereby violating community guidelines."
Apparently, the state thought that the image was offensive, but the Supreme Court later on granted bail to Priyanka in exchange for an apology. 
Although I'm wondering exactly what was so offensive about the meme in the first place that such drastic measures had to be taken, where the poster was put in jail. 
In fact, many people had actually liked and praised Priyanka Chopra's outfit and while it was surely on the bizarre side, in no way was it insulting or humiliating the person in any way. 
On the other side though, considering it's someone from BJP itself doing it, I can't help but recall when the Mumbai police had created a big ruckus in 2017 over the 'wanderlust' meme where AIB (All India Bakchod) had applied the standard Snapchat filter of dog ears over an image of PM Modi and put it alongside a picture of a person who very closely resembled him. 
This resulted in the Mumbai Police instantly filing an FIR of defamation and "publishing/transmitting obscene material in electronic form".
They were charged under the IT Act the punishment for which can last up to 3 years in jail and Rs. 5 lakh in fine. 
The situation eventually was cleared out without any jail time, but it is interesting that BJP did not take better measures to not do something that they themselves had found offensive. 
Another point to mention is that this meme of Mamata Banerjee is hardly something to get triggered about since there are much worse memes and art-work created around big world leaders around the globe. 
---
Read More: Indians React To The Controversial Time Magazine Cover Calling Modi "Divider In Chief"
---
More Insulting Memes Out There
To be honest, there are much more insulting memes around the world made of much bigger politicians like Donald Trump, Putin and more. 
This post by social Sonia Guajajara an indiegenous rights activist had posted this on her Instagram page, which essentially shows a dog peeing into the mouth of the current president of Brazil Jair Bolsonaro. 
This meme of Trump being President of United States mocked as being a bizarre turn of events is another one that could be slightly insulting. 
The street artist Hanksy in New York in 2015 had painted this viral mural "Dump Trump" ahead of Donald Trump winning the presidency.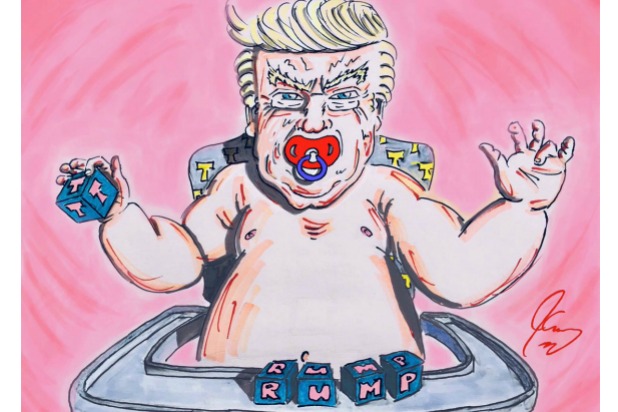 This painting by actor Jim Carrey in 2018 pointed to how Trump was behaving like a child for putting the blame of the California fires on mismanagement. 
---
Image Credits: Google Image
Sources: Outlook India, NDTV, HuffPost India

Find the blogger @chirali_08
---
Other Recommendations: