He would've been 58 today, hadn't it been for his untimely death in 2009. The King of Pop may not be alive but his music is still moving and inspiring his fans every day.  I come from a family that used carol to Michael Jackson songs which was mostly the reason why his demise was like a trauma to me and my sister.
Growing up listening to MJ's music was a total blowout. To be honest, I'd be in awe each time I'd see him perform on stage. It was a feeling like no other, which is why I decided jot down 5 of MJ's most iconic moments in the history of time. Check em' out:
Star of The Jackson 5
Formed by MJ's dad Jospeh Jackson, The Jackson 5 were pop-rock group from the 70s that consisted of Michael Jackson and his brothers. While it was their single "I Want You Back" that landed them on top spot on Billboard Hot 100, what I was obsessing over was the charisma of their youngest and grooviest singer – baby MJ.
Typically shy but a rocker on stage, MJ was a total star from childhood. Loved his little dance moves even then.
Constantly under media scrutiny, adorable Michael soon became a household favourite in the US due to his amiable talent for singing, dancing as well as entertaining.
The Moonwalker
It was Motown's 25th anniversary and The Jackson 5 were reuniting on stage nearly after 3 years. But that wasn't the part that made history, it was when Michael Jackson took the stage and performed a never-seen-before dance move during the course of the song "Billie Jean" that earned him a standing ovation from the crowd and an EMMY nomination for the same.
The shiny glove in one hand and mic in another, MJ took the crowd by storm. Stage performances would never be the same for me after watching that.
The impact was so immense I was moonwalking my way to get milk from the fridge. Yeah! No kidding.
Thriller Unveils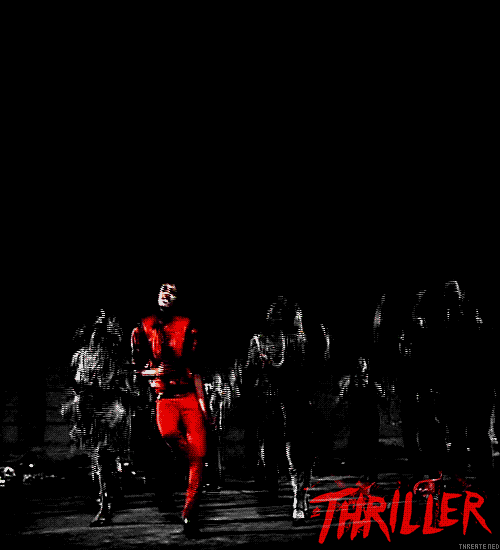 While MJ had already dropped a series of successful albums as a solo artist, it was his sixth album that landed him "eternal glory" (Excuse my Harry Potter reference). After the success of last album "Off the Wall", MJ decided to work on some more varied genres of music. Result- Thriller.
Eddie Van Halen's guitar solo in "Beat It" is the reason why I know Van Halen. Each song the album was magical!
Producing seven singles that landed in top 10 of Billboard Hot 100, the album won 8 Grammy Awards and till date remains the bestselling album of all time.
Super Bowl XXVII Halftime
Well a lot of stars perform at the Super Bowl halftime, but nobody is nearly as great as MJ. Now I don't want to sound biased but that Super Bowl halftime show steeply increased the TV ratings and is still regarded as one of the most watched events in American television history. A well energised and wholesome performance by MJ was concluded with the crowd doing this:
Wooosh!
It's exciting to see how he'd just stand still on stage doing nothing and the crowd wouldn't stop roaring even after 3 whole minutes. I mean talk about impact!
Oh what would I have given to watch him perform live!
This Is It
Michael Jackson came back to spotlight nearly after 8 years to announce his final tour in the March of 2009. The series of concerts were to be called "This Is It" concerts. The shows were already sold-out when he took his last breath on June 25, same year. Soon his rehearsals for the tour were clubbed together for a movie called "This Is It".
The film broke numerous records and for me, was the last time MJ would ever strike a groove on my favourite songs. I bawled for two straight days after his death and this documentary was like a closure that I needed. *Sob Sob*
His charm as an artist was bigger than anything I've ever seen.
With this we have reached the end of the list, but not the end of MJ's iconic moments. There are more than a hundred reasons as to why he was the greatest entertainer of our generation. Whenever I'm down, his "I'll be there" is there to comfort me.
Whenever I'm happy, his "Rock with you" is sure to hook me up a groovy dance number. He was simply phenomenal. And I miss his voice and I miss dance, just like millions of his fans out there.
"I JUST CAN'T STOP LOVING YOU" Michael!
HAPPIEST BIRTHDAY TO YOU!
---
If you liked this, you might wanna check out:
http://edtimes.in/2015/11/jimi-hendrix-quotes/