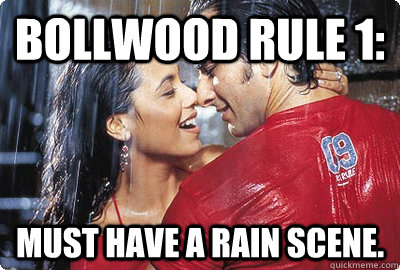 Every time Shah Rukh Khan spreads his arms on screen, Kareena Kapoor dances in an orange saree on a swing or Amitabh Bachchan delivers a dialogue in his deep baritone to a smattering applause, believe it or not, there's something to learn from all of this. We've all grown up on Bollywood films and love them to the core despite all the absurdities we get to see in some of them.
Here's presenting the 5 things that I've learnt from Bollywood:
1. Happy endings forever: Most Bollywood films end on a happy note; the guy gets the girl; the sportspeople win the big tournament; the family is united. In fact, even if there isn't a conventional happy ending, we Indians will derive some positive meaning to it. For eg: when Deepika-Ranveer died in Ram Leela, we were sad that they died, but at least they finally got to be together in heaven, or when Jai dies in Sholay, at least Thakur got his revenge. Optimism is the finest quality we Indians possess.
2. You don't need an occasion to burst into a song: Bollywood films have song and dance sequences at the drop of a hat, be it in order to woo the lady love, proclaiming your friendship, celebrating festivals or challenging the villain. Taking cue from this tradition, I think we can also incorporate some music into our lives. Many of us have attained PhDs in bathroom singing and bursting into a song is like cakewalk. So brush up your mental playlist and keep one song for every emotion.
3. The importance of maa: One may notice that everything that is done in Bollywood films, especially those that came in the 70s, is centred around maa. Your Bangla, gaadi and bank balance hold no value when they're compared to maa; she is the sole reason why the son will mend his negligent ways and aim to become sucessful; even the villain finds her the most profitable person to kidnap (there's always going to be a dialogue in one the films which goes like "tumhari maa humare kabze main hai. So and so amount leke soonsaan godown mein pahuncho")
4. Anyone can get into any college: Filmmakers just love DU and St. Xavier's and most college films will be shot here depending on whether the protagonists are Delhiites or Mumbaikers. However one thing that none of the filmmakers keep in mind while creating these star college students is the college cut off. It might sound a bit discriminatory, but will someone please tell me how did Jordan get into Hindu college in Rockstar? The impression one gained was that he wasn't precisely fond of studying, yet everything points towards the fact that he managed to beat thousands in the board exam, got a 96% and thus, made it to Hindu. (A standing ovation, please). I sincerely wish that happened in real life!
5. Your life is incomplete without a trip with friends: Be it Zindagi Na Milegi Dobara and Dil Chahta Hai by the Akhtar siblings, which made road trips with friends a 'must do' activity; or Yeh Jawaani Hai Deewani which showcased the masti that one does on snow capped misty mountains, films have taught us that one should definitely make impromptu travel plans with friends. Even if you don't take a trip with existing friends, make new ones on the way, Queen style!
So the next time you think that Bollywood is just song and dance stupidity, think once again. There are hidden gems in each film, waiting to be discovered by you!