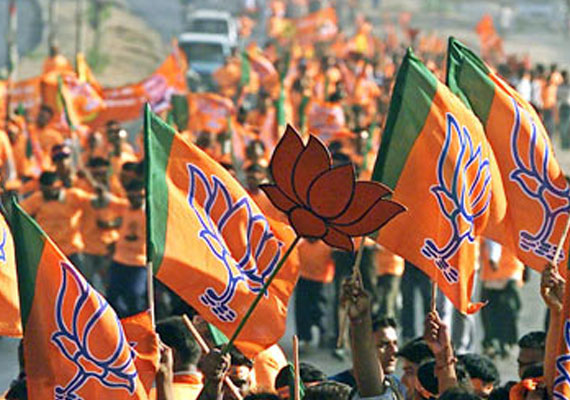 The much awaited manifesto of the Bhartiya Janta Party was released on April 7th, 2014. The document was released by its prime ministerial candidate Narendra Modi among others at the party headquarters in New Delhi. Senior leaders LK Advani and Sushma Swaraj, party president Rajnath Singh and others were also present during the release of the document.
In its 52-page election manifesto, the saffron party raised the main slogans of "Ek Bharat, Shreshtha Bharat" (One India, best India) and "Sabka Saath, Sabka Vikaas". It pledges to provide good governance and inclusive development. The manifesto which was released  late as compared to the other parties is a disappointing effort. It lacks freshness in terms of ideas and is inclined to follow some ruinous economic policies. For example, like it has been saying from the very staring the party is vehemently against FDI in retail and okay with FDI in all other sectors. Why is retail being left behind? The party doesn't give any details on that. On issues of combating high inflation and unemployment in the country, which have been the party slogan for a long time now, the document is stingy on details.
The first point of this manifesto states that, "break the vicious cycle of inflation and interest rates" how does the party plan on combating high inflation, when the factors causing high inflation are not government regulated?  When it comes to extraction of natural resources, the party feels that the government should have the sole right to decide who should get extraction right, the extent of resources that can be removed and also fix the price. This would be the continuation of the UPA's major failures and it sets the stage for crony capitalism. The BJP's manifesto offers nothing new and it does not provide a different perspective on the policies. It basically states that all policies followed by the UPA government were correct, and only the implementation process was poor, how the party plans to implement the policies is also amiss in the document.
The contentious issue of construction of a Ram temple on the Babri Majsid site has also been included in the manifesto, the only saving grace being that it promises to do so by constitutional means.  Asked if the party was trying to confuse voters by including Ram Temple and whether this could be called raking up Hindutva, Murli Mahonar Joshi said, "this has nothing to do with Hindutva or athva (otherwise). This is only a promise of development programme."
Though the manifesto has some strong points like developing labour intensive manufacturing and tourism, an identification of neo-middle class, it is largely unexciting and puts nothing innovative on the table. It offers far too many platitudes, with elements cobbled from current Congress and BJP manifestos.