With Independence Day right around the corner, concerns about national security increase threefold. Adhering to that the Ministry of Tourism issued an advisory to all states, instructing them to ban selfies in front of national memorials from August 12 till August 18.
Now, that is just plain awful. How else do you expect people to show the world that they are enjoying monsoon with Angel Priya and 16 others at Hauz Khas Fort ?
Increased Security:
As Independence Day marks the airspace around the Red Fort as a no-fly zone to prevent aerial attacks, an additional nationwide advisory indicates tighter security measures to prevent any kind of mishap throughout the nation. Also the measures have been taken in view of the 'Bharat Parv' event that will be taking place at Raj Ghat in Delhi.
Bharat Parv will be a cultural event that'll highlight the diversity and integrity of the nation promoting a sense of patriotism amongst the citizens of the country. The event will witness several exquisite handicrafts exhibitions and performances by artistes as well the band of the armed forces.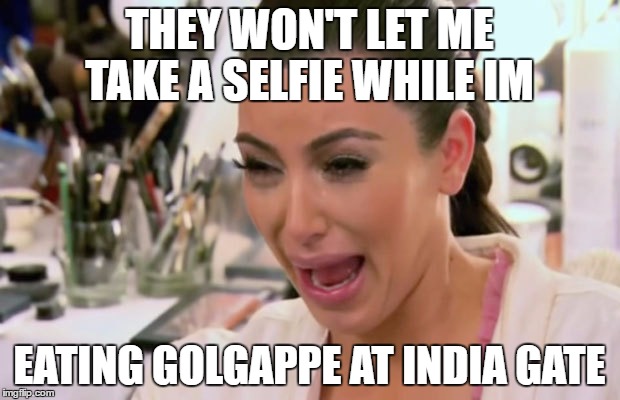 Why Selfies? :
It's an interesting thing to notice why the government decided to ban selfies. Over the short course of two years, the number of selfie related incidents in the country has risen from null to more than 30. While we are still behind in curbing corruption, India is currently leading in the number of selfie related deaths in the world.
Thus it becomes essential to put an end to this menace. Subsequently, the government has also decided to declare 'Selfie Danger Zones' at various tourist sites countrywide given the rise in selfie-related deaths since 2014.
Lo, now the government takes away the only incentive the youngsters had to visit national memorials. Although, it's not a surprise, just another addition to India's ban list. This actually includes porn, beef, cuss words, the word lesbian in movies, the BBC documentary India's Daughter, alcohol and well many more.
But it's important that people understand the cause of some of these justifiable bans and prevent any more mishaps from happening.
---
If you liked this, you might wanna check out: