By Shounak Sengupta And Arijit Mitra
As we look ahead to the FIFA World Cup 2014, Economy Decoded takes a moment to remember the players who missed out on the trip to Brazil. While these stalwarts have already established themselves as masters of the game, this summer they will have not be given the opportunity to dazzle their fans in footballs greatest tournament.
As a part of our drive to bring you our coverage of this years World Cup, we look at a team of 11 players who could and would have laid a strong claim to the trophy.
Goalkeeper
Petr Cech
The iconic head guard will not be seen in Brazil this time around as the Chelsea shot stopper and his Czech Republic teammates failed to qualify finishing third in their group in the qualifiers
Defenders
Branislav Ivanovic
Cech's Chelsea teammate and Serbia captain Ivanovic too will miss out this year, failing to qualify from the group stages.
Daniel Agger
The Liverpool vice-captain had a good season with his club and also captained his Danish side to a 2nd spot in the qualifiers but his side had the 'worst' record among all nine second placed teams in the groups meaning they were eliminated at the end of the group stages.
Filipe Luis
The Atletico Madrid centre back misses out despite having a standout season winning the La Liga and reaching the Champions League finals.Brazil manager Luiz Felipe Scolari chose to go with David Luiz, Thiago Silva, Marcelo and Dante instead and Filipe is one of the seven players put on standby this time.
David Alaba
The Austrian left back regularly starts for German giants Bayern  Munich but his national side didn't have a strong showing in the qualifiers finishing third behind Germany and Sweden.
Midfielders
Gareth Bale
It seems ironic that the most expensive player in the world wont be seen in Brazil but not much blame can be put on him as his national Welsh squad are regarded by most as obvious minnows among the strong teams playing out of Europe. It seems that Bale will have to be content with just his Champions League winners medal.
Marek Hamsik
The 26 year old Slovakian captain has had heads turning with his performances for Napoli with Rafa Benitez praising him for his tactical skills and technical abilities,but his sides dismal showing in relatively easy group in the qualifiers means he will not be participating in the World Cup this year.
Marco Reus
Marco Reus has grown steadily and strongly under Jurgen Klopp and the Dortmund midfielder will now be a top target for many top European clubs this transfer season. Whether he leaves or not is yet to be seen , but he won't be seen in Brazil playing in his national colors as he picked up an ankle injury in Germany's 6-1 victory over Armenia.
Franc Ribery
The French midfield maestro cemented his place as a footballing legend, winning the treble with Bayern in 2012-13 and being nominated for the Ballon d'Or alongside Messi and Ronaldo. Though Ronaldo went on to win football's highest individual honour, none could deny that Ribery too was as worthy. Unfortunately the French magician picked up an injury even though he was named in Didier Deschamps' French squad, ruling him out of this years World Cup.
Forwards
Robert Lewandowski
The 25 year old Pole has gone from strength to strength after joining Dortmund and his four goals against European giants Real Madrid showed the world how dangerous he can be.The Bundesliga top scorer this season has already signed with rivals Bayern Munich having his sights set on greater glory more notably a Champions league medal. A World Cup winners medal will be tough task for him though, as his Poland side are perennial strugglers on an international level having failed to qualify this time as well.
Zlatan Ibrahimovich
The 32 year old has an impressive resume having played for the likes of many top European teams including Internazionale, ACMilan, Barcelona, Ajax, Juventus and his current club Paris Saint Germain.A veteran for both club and country,the sheer class in which Zlatan scores goals leaves football fans in awe. His large personality both on and off the field will be absent in Brazil this time with Sweden being knocked out by Portugal in the 2nd round of qualifying.Rest assured though plenty of comments and reactions are to be expected for this very vocal Swede who is not really known for being diplomatic about his views.
SQUAD: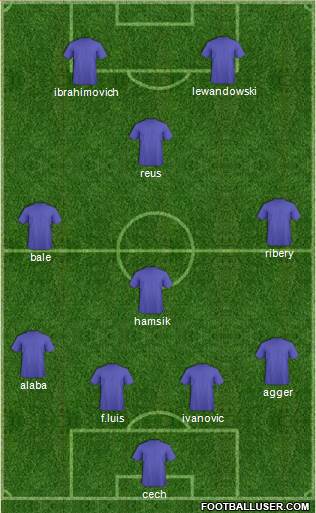 Notable Mentions:
Radamel Falcao (Colombia and AS Monaco, Injured)
Riccardo Montolivo(Italy and AC Milan, Injured)
Samir Nasri(France and Manchester City, Not in squad)
Theo Walcott(England and Arsenal, Injured)
 Kaka(Brazil and AC Milan, Not in Squad)